John's Story
On March 28, 2008 we decided to grow our family…
On April 5, 2008, we visited Dr. Donahue at Adel Family Practice about becoming pregnant and the steps we needed to take.
In June 2008 we had a miscarriage.
A year later on March 12, 2009 we visited Dr. Roehrkasse at the Women's Health Clinic since it had been a year and we were not yet pregnant.
They started to run tests and put me on a drug called, Provera to start my cycle. After being on it for 25 days and being extremely nauseated, I had an appointment again with Dr. Rohrkasse on April 8, 2009. I wanted off the medicine since I was feeling so horrible and thought it was the medicine. I was wrong…I was told I am PREGNANT!!
Steve was not with me since we thought I was just going in to get off the meds! I drove home, very quickly, and told him he was going to be a dad! It was the happiest moment in our lives (so far)!
Since we did not now how far along I was,  we scheduled an appointment to have an internal ultrasound done two days later to find out our due date… On April 10, 2009 we found out that we were 6 weeks and 6 days along and our baby's due date would be November 29, 2009.
During our pregnancy we had some ups and downs. Starting at week 20 I had to go to physical therapy twice a week until the end of the pregnancy due to issues with my hips and pelvic bone.
Due to John's size we ended up having 5 ultrasounds. We knew he was NOT going to be a small baby. In the last 8 weeks we have 3 of the ultrasounds monitoring his growth. We had our last ultrasound on November 30, 2009,  the ultrasound showed John weighed 9 lb 5 oz (which could be a pound either way). After a long talk with Dr. Hanson weighing out all our options, we decided to schedule a cesarean for that Thursday, December 3 at 2:00 pm.
Steve was about ready for the work season to end. And usually he would go do something during the winter months. Since John was coming we decided he would wait a while and take the first month or so off with me and baby John.
December 3, 2009 came and we were so excited, nervous and anxious all at once…we could barely wait…today was the day that our lives would be completed not only as individuals but also as a couple!
We arrived at the hospital at noon. We knew it was about time when Dr. Hanson walk in to see how we were doing! We were great…we knew it wouldn't be long until we met our son!
In the operating room Steve sat at my head and held my hand. He kept peeking around the current anxious to see our baby boy! I could tell something was going on, then I we heard Dr. Hanson ask if there was another doctor there and to get them in there! Nervous and not knowing what was going on I was asking what was happening and Steve was trying to stay calm. John had been moving around so much Dr. Hanson couldn't get a good grip on him and ended up pulling him out butt first at exactly 3:30 PM weighing 9 lb. 4 oz. and 21 ½ inches long! All the sudden she said "He's here!" It took a scary moment before we heard his amazing cry. Daddy went to meet our perfect son, John Donald Gomke and shortly brought him over to meet me! He was a solid brick! John, Daddy and Nurse Katie were off to the nursery!
Mommy went to recovering thinking everything was ok. Daddy and John were in the nursery for about ten minutes when they realized it wasn't. John calmed down after the shock of his new world and was not able to breathe when he closed his mouth. They tried to put oxygen up his nose and realized the tubing couldn't go in all the way. Not knowing what was going on John and daddy headed to the NICU.
Once in the NICU they called for the ear, nose and throat pediatric specialist, Dr. Young because they knew that there was a blockage, but not what the blockage was. Since Dr. Young couldn't get there until Friday he told them to give John a pacifier with the end cut off. Since John would not keep it in his mouth they found what we called a "block" that went in his mouth, past his gag reflex and stayed in better. The nurses did all the routine stuff. They couldn't let him eat anything since having surgery the next morning was an option. Daddy and Nurse Holli had a VERY long night standing beside John's crib while he screamed. Finally about 1:30 am on Friday morning they let daddy hold baby John, which helped to calm him down. Though John was still upset since he wanted to get something in his belly!
Dr. Young arrived to see John Friday, December 4 in the afternoon. Once he got there and did his testing he came to the conclusion John had Choanal Atresia and would need surgery to put holes in the bone blocking his nasal passage in order to breathe through his nose. (This is a condition 1 in 20,000 children are born with) Surgery was scheduled for Monday morning.
Mommy was able to come see John a little more but was limited because  she needed to recover too. She was having a really hard time not being with John. Knowing Daddy was with him helped her. He would video John and every couple hours bring it down so she could see it! This was the only time daddy left John's side.
Over the weekend daddy and mommy made sure John kept his "block" in his mouth. He was able to get milk through a feeding tube which helped to keep him calm.
The morning of Monday, December 7 came and it was surgery day! Daddy and mommy were very nervous. Knowing their little guy was going to be on a ventilator during surgery and for a while after. Praying everything would go smoothly. They walked down with John as far as they could then waited anxiously in the waiting room! The liaison was reporting and said everything was going good and should be done within 20 minutes. Originally surgery was estimated to be about an-hour-and-a-half, so we were excited it was only going to take an hour! Great! Another hour went by, no liaison in site…finally two hours and fifteen minutes later she appeared to tell us surgery was complete and Dr. Young was on his way to talk to us!
Dad and Mom went into the meeting room where Dr. Young walked in with a big smile on his face. Dr. Young said he was VERY pleased and dad and mom were extremely relieved! Dr. Young told us the bone he had to put the holes in was a lot thicker than he thought it would be and had to use every tool he had in the operating room! But got it done!
John stayed asleep on the ventilator until the next day. When he woke up the breathing tube was still in and daddy and mommy had to keep him from pulling it out…he did NOT like it! His face would turn beat red and you could tell he was trying to scream and couldn't, dad and mom hated seeing him like this. Finally, the tube came out. Our little guy could cry, scream, smile and was happy! He took his pacifier instantly and started breast feeding immediately! We were so proud of him!
We had come home the last three nights to get some sleep once we knew John was spoiled rotten and doing good! We found out later he was more spoiled than we thought. The nurses would take turns coming in and snuggled him every time he made the slightest noise! He loved it!!
At 8-days-old, on December 11, 2009, John was released from the NICU to come home! Excited to go home but sorry we had to leave all the amazing nurses that loved to spoil him! Nurse Katie, who had caught him when he was born, volunteered to stay and release John! Nurse Karla, one of John's favorites stopped by to see him, even though she was on vacation!
Daddy dressed John in his CAT onesie that he had ordered and waited 6 weeks to get just so John could wear it home. Daddy was so proud to see John in it! The professional photographer came in and took pictures of him in it! She suggested the pictures in just a diaper but we wanted the onesie!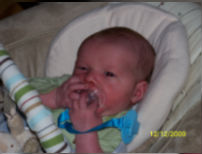 John adjusted quickly at home. Though he missed the nurses sneaking in every time he would make a noise to snuggle with him while dad and mom were sleeping! He ate every 4 to 5 hours. He stayed awake in the mornings while daddy and him hung out. He was also awake from about 4:00 to 9:00 every evening! He loved his bouncy seat where he sat and hit and kicked his bear and rabbit hanging over him. When he was wet his diaper he would kick off his blanket and start whining! John did NOT like being wet, but he did not like having his diaper off either! Maybe cause he knew every time we changed his diaper we would squirt saline up his nose to help it heal!
John loved to eat! But he did not like to burp. He quickly tried to trick us with his fake burping, but it didn't work. Though it was the cutest thing we ever have seen! He was eating 4 to 6 ounces at 3-weeks-old. The one thing he loves more than eating is his Daddy. It does not matter what he's doing, even in the middle of eating, if he heard his Daddy's voice he would quickly turn towards him! He was a Daddy's boy even while in mommy's tummy. Even then when daddy would talk, John would start moving like crazy!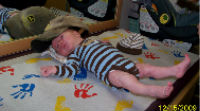 We would go in once a week to visit Dr. Young and Nurse Kelsey. We loved visiting them, even though John did not like getting his nose checked out, we knew they were making his breathing better! John should have 2 to 3 minor outpatient surgeries cleaning up any scar tissue that would build up.
We also got back into our weekly Sunday family day routine. We would go to El Rodeo to eat lunch then to Hy Vee grocery shopping.
January 3, 2010, John's 1-month birthday started as our typical Sunday family day. John had slept all night long for the first time the night before. Everything was going as ordinary we thought. John was a little fussy when we got to Hy Vee. This was unusual for him, but just seemed like he wanted to be held. Heavy breathing was natural for John with his Choanal Atresia so nothing was out of the ordinary with that. We had no idea what was about to happen.
We paid for our groceries and headed home. John was whining a little when we put him in the car seat in the Jeep. Shortly he fell asleep like he always did. We drove home and dad took the car seat inside and sat it on the counter and went to take John out of it. He didn't flinch, which he usually did. Dad picked him up and he was limp. He was not pale or blue or anything. Dad instantly started CPR. Mom called 911 and ran to the neighbors and got Ryan Murphy who is on the local fire department. He came and applied chest compressions. The ambulance arrived 4 ½ minutes later and took over. They took John into Mercy West and dad and mom follow behind.
At Mercy West we stood outside the ER room doors where John was. They kept opening a little as people hurried in and out. Dr. Murad came out and told us they were trying but John's heart was fibulating and they couldn't continue much longer…we were devastated. In less than five minutes he came back out and told us John's heart started! They were going to take him to downtown Mercy Medical Center. We would ride in a different ambulance and meet John down there.
More to come…it is very difficult for me to write this story, especially this last part. Please bear with me and I tell you the entire story of our precious angel's 33-days on earth with us!
– Jessica Gomke